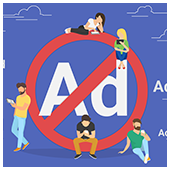 For the longest time, we've been visiting countless websites only to be greeted with annoying ads that never piqued our interest. Luckily, Chrome users won't have to put up with them for much longer. Google will release an ad blocker early next year. To that end, here's everything you need to know.
What is it?
Ad blocker from Chrome actually works like an ad filter, meaning it won't block all ads from the website, only ones that are determined to be too intrusive, like video autoplay with sound as well as interstitials that take up the entire screen.
A group called the Coalition for Better Ads, which consists of Google, Facebook, News Corp, The Washington Post, and other members will decide whether or not the ads are to be blocked. According to Sridhar Ramaswamy, the executive in charge of Google's ads, even ads owned or served by Google will be blocked if they don't meet the new guidelines.
How will it work?
From a consumer's end, you won't have to do anything except for updating your Chrome browser. For publishers, Google will provide a tool that you can run to find out if your site's ads are violating the guidelines. The blocker will apply to both desktop and mobile experiences.
What are the benefits of Chrome ad blocker?
Bad ads slow down the web, make it annoying to browse, and drive consumers to install ad blockers that remove all advertisements. If that continues, publishers will face major obstacles since nearly all websites rely on ads to stay alive.
With Chrome's ad blocker, wholesale ad blocking can be controlled to please both consumers and publishers. Users get a better web browsing experience and publishers can continue to make profits through online ad sales.
But isn't Google already using third-party ad-blocking extensions?
Yes, but this means they have to pay third-party ad blockers -- like Adblock Plus -- a certain amount of fee to whitelist ads for the privilege of working around their filters. With their own ad blocker, this can be eliminated once and for all.
Are there potential drawbacks?
It's undeniable that Chrome's ad blocker gives Google lots of power to determine ad standards for everyone. It comes to no surprise that there are skeptics who don't trust one company to act in everyone's interest.
And while Google assures that even its own ads will be removed if they violate the rules, the fact that Google itself is an ad company with nearly 89 percent of its revenues coming from online ads doesn't boost its credibility to industry peers.
Publishers will have fewer options to monetize their sites once Chrome's ad blocker is implemented. To help, Google will include an option for visitors to pay websites that they're blocking ads on called Funding Choices. However, a similar feature called Google Contributor has been tested a couple years ago with no signs of catching on so we doubt that Funding Choices will differ.
Despite expected criticism, Chrome's ad blocker will likely result in a better web browsing experience. And as always, if you have any questions about the web, or IT in general, just give us a call and we'll be happy to help.
Published with permission from TechAdvisory.org.
Source.