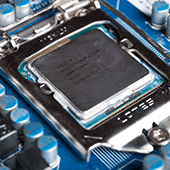 The world's largest computer manufacturers are growing concerned about the shortage of computer chips. Even though the issue was reported back in September 2018, Intel is still having trouble meeting the demand. So, what's the cause of the major PC shortage and what does it mean for businesses?
Reasons for the shortage
There are many contributors to Intel's long-running chip production problems. For starters, demand for Intel computer chips has been higher than expected as more businesses depend on resource-intensive applications, cloud computing, and state-of-the-art machines to gain a competitive edge.
Additionally, there are major delays in the production of Intel's next-gen 10-nanometer processors, largely because the company is short on capacity. This means businesses will not have access to PCs featuring these processors until much later in 2019.
Intel also appears to be prioritizing development of server CPUs, as they make up a huge portion of the company's revenue. Focusing on server chips, however, has resulted in slower production rates of consumer-grade CPUs. Desktop CPU revenues, in particular, lagged significantly behind notebook and server CPUs, which resulted in the shortage of chips for desktop PCs.
What's being done
Experts predict that customers will have had enough server CPUs so production for these productions will slow down by the second half of 2019, freeing up enough capacity to meet the demands for desktop and notebook CPUs. In fact, according to Intel's interim chief executive Bob Swan, "We are working closely with our customers to align demand with available supply while we add capacity and we expect supply-demand balance to improve by mid-year."
Intel also promises that PC shortage issues will be completely resolved by the third quarter of 2019. In the meantime, computer hardware manufacturers like Lenovo and Asus have their work cut out for them. To make up for the Intel chip shortage, PC manufacturers are strongly considering switching to AMD processors for desktops and laptops.
What does the shortage mean for businesses?
Businesses who are unable to acquire the newest Core, Celeron, and Pentium series processors for desktops and laptops may have to look for alternatives compatible with non-Intel chips. But if your company is running on a tight budget, it may make more sense to wait until late 2019 to upgrade to computers equipped with next-gen Intel processors.
Sticking with older hardware does leave your business exposed to security and downtime risks, so it's important to stay on top of the latest updates and regular maintenance. Fortunately, a top-notch managed services provider can proactively manage your hardware for a reasonable monthly fee.
If you want to hear more about the latest hardware news and developments, stay tuned to our blog. We also provide services for all things IT, so contact us today!
Published with permission from TechAdvisory.org.
Source.