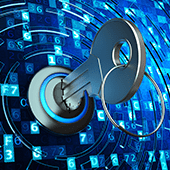 You might not be interested in learning about IT, and we don't blame you, you didn't start your business to master the ins and outs of servers. But whether you like it or not, your business relies heavily on technology to survive. This is why there are certain aspects of IT that you can't afford to ignore and IAM is one of them.
What is IAM?
Identity and access management is a system that secures, stores, and manages user identities and access privileges. It ensures that users are who they say they are and will grant access to applications and resources only if they have the permission to use them.
Some of the most common IAM solutions include single sign-on (SSO), multi-factor authentication (MFA), and access management, all of which can be deployed on-premises or in the cloud.
Why is it so important?
Modern technology enables businesses to be more agile and efficient than ever before. For instance, the cloud lets your employees work from anywhere at anytime on any device. However, this means that your workforce has moved beyond the protections of on-premise security.
That's why you need to embrace another security solution, one that focuses on identity rather than physical or network security, which is exactly what IAM was designed for. It makes sure that your employees, customers, and partners are who they say they are and are only able to access the resources they need, nothing more. And that's just scratching the surface on how IAM can benefit your company.
Centralize access control
Too much access to certain systems are risky and too little can hamper productivity and frustrate users. IAM strikes the perfect balance by letting you set centralized policies for the right access privileges. For example, you can deny your design team access to the accounting system while granting it to your CFO.
Each user's role and attribute can be used to determine which resources they're allowed to access and to what extent. This not only offers better security but also more flexibility and ease of management.
Lower chances of data breaches
With SSO and MFA, your employees will no longer have to remember multiple passwords. Instead, they'll be able to prove their identity using evidence-based authorization such as answering a personal question that only they would know. IAM also comes equipped with advanced encryption tools to protect sensitive data and so reduces the risk of compromised user credentials.
Improve user experience
Customers today interact with your company across multiple channels, whether in the cloud or via third-party applications. This is where IAM helps provide a better experience through SSO, self-service capabilities, and unified customer profiles that makes communication processes quick and easy.
Your employees, on the other hand, will be able to access the information they need securely and conveniently no matter where they are. This means productivity will no longer be confined to their office table.
Achieve regulatory compliance
Businesses today must meet the constantly changing regulatory requirements concerning data access governance and privacy management. IAM was designed with just that in mind and provides control over who can access data and how it can be used and shared.
Reduce IT costs
IAM automates and standardizes many aspects of identity, authentication, and authorization management. This means you'll be able to minimize significant labor costs associated with keeping your business environment secure.
Identity and access management solution equips you with much-needed security without compromising on usability and convenience. To operate in today's digital business environment, it's not a matter of "if" but "when" you'll adopt IAM within your company.
If you're looking to enhance company-wide security, whether with IAM or other solutions, why not give us a call? We're sure we can help.
Published with permission from TechAdvisory.org.
Source.