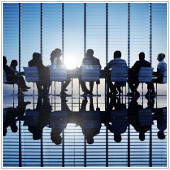 Theoretically, scheduling meetings should be virtually hassle-free. But in reality, simply agreeing on a mutually compatible time is often an impossible task. On top of hectic schedules, you have different departments that have their own time constraints. What if there was a tool that could take care of all that for you? That's where Microsoft FindTime comes in. Find out what this tool can do for your next meeting.
Before any meetings take place, you'll need to download Microsoft FindTime first. Fear not, because this Microsoft Outlook add-in is easily downloadable and is 100 percent free. FindTime was developed to help you and your guests do just that -- find time! Coordinating all attendees' schedules, FindTime will iron out a time that works for everyone.
Just the thought of having to organize a meeting across your organization can stir up anxiety and elicit a huge sigh... Sigh! Why? On top of handling your own hectic schedule, you're expected to juggle your attendees' schedules as well. This would be the moment when telephone calls start to flood in and emails start to go back and forth, rarely heading toward a unified decision.
Bid adieu to all of that with Microsoft FindTime. Simply compose a new email or reply to an existing one and click the New Messaging Poll at the upper right hand corner. From there, choose the attendees, propose a couple tentative meeting times, and let the voting begin! Once a consensus is reached, a confirmation email is automatically sent to everyone attending.
What makes it even easier is that attendees can take a look at the visual summary that tallies all the votes, and who voted for what times. This lets you see what times the majority of people have chosen, giving you a chance to rework your schedule in advance if and when necessary.
Another plus is that to receive a Microsoft FindTime invitation, your friends and family don't need an email address or even an Internet connection! Participants aren't required to have Office 365 either; only the organizers need to access Office 365. This means that you can reach out to your friends, loved ones, and colleagues to organize your meetings, set up playdates, and even plan surprise birthday parties -- the possibilities are endless.
For more info about Microsoft FindTime, feel free to send us an email or give us a call! Our experts will gladly answer your questions. We believe that time is money, and money is the last thing you'd want to jeopardize. Allow us to help safeguard your assets by ensuring that all the time you spend on the clock doesn't go to waste. Every minute counts.
Published with permission from TechAdvisory.org.
Source.