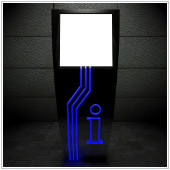 More patients are turning to a self-service approach when it comes to healthcare. Now this doesn't mean they've taken to operating on themselves, but they are checking into hospitals without the help of medical administrators. Similar to portal technology, self-service kiosks can help streamline administrative tasks like hospital registration and payment. So is self-service a viable solution for hospitals?
Listed below are a few key benefits of a self-service solution.
Reduced costs
Implementing self-service kiosks in hospitals can reduce costs for the facility. Self check-ins save the hospital from using paper, filing the forms, and allows them to quickly look up information on that particular patient without having to sort through piles and cabinets of paperwork. Additionally, with self-service kiosks, nurses spend less time doing the bulk of the hospital's administrative duties and more time providing care for patients.
Reduce patient waiting time
The need to fill out paper forms is replaced with an easy-to-operate digitized system. Usually, the administrative staff have to manually record the patient's information and find the appropriate medical department that will tend to the patient's healthcare needs. This process can be eliminated as self-service kiosks make it easier to check-in and verify patient information by simply swiping an identification card.
Less errors
Sometimes mistakes happen. Using electronic kiosks help reduce data entry errors made by an administrative staff. By crowdsourcing the filing of the electronic forms to patients, chances of errors are reduced since they are usually invested in getting the best treatment for themselves. This also means that duplicate consent forms and medical data going into the electronic health record (EHR) are not likely to happen as the device will simply alert the hospital staff if they have an existing record in their system.
Easier payment method
Tying the kiosk into a Web-based portal can also expedite the process of payment for the patient. Patients can pay their medical expenses by simply swiping and putting their credit card information into the electronic payment system. The device can also inform the patient of any outstanding medical balances, print out payments and medical certificates, as well as notify the hospital if the patient has made any payments for the treatment they received.
Less confusion
Apart from the easily accessible forms, patients can also take comfort in knowing that they are never lost with the self-service kiosks. In the same device, the patient can find their appointed physician by accessing a hospital map which will point them in the right direction. While this feature is pretty basic, it saves the patient some time from finding any available staff that can eventually direct them to the right room.
While some would still prefer to have face-to-face conversation with medical staff when they check-in to the hospital, self-service kiosks are well worth the investment. At the end of the day, implementing electronic devices is not only a cost-efficient solution, but one that can reduce the waiting time for patients and increase the time for hospital staff to care for them too.
Contact us today if you want to be informed on the latest trends in healthcare IT.
Published with permission from TechAdvisory.org.
Source.