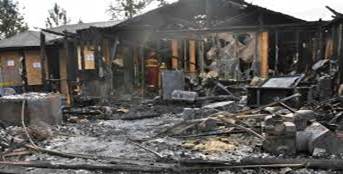 Hot summer months mean fun in the sun, vacation and bbqs…but the season can also mean burglaries and fires, as well as natural disasters such as hurricanes. It's hard enough to survive such a horrible incident…but what then? How do you start over? Where do you begin, especially where your business or personal information are concerned?
In the tech world, this is known as a "Disaster Recovery Plan" or a "Business Continuity Plan"…a detailed, step-by-step course of action for getting a business back on its feet -- and quickly -- after a natural or manmade disaster.
This has become so important, it is an actual requirement for many businesses around the world.
But where do you start? Well, this is where a strong, reputable I.T. Consulting firm is imperative. An I.T. Consulting firm works hand in hand with the CEO and other pertinent business partners, conducting an in depth analysis of the business and then with that information, designing a program that will allow the business to keep functioning in the light of a catastrophic event.
Take into consideration Hurricane Katrina. The numbers are staggering…more than 1,800 lives were lost, it wreaked $200 billion in damage and wiped out the communications infrastructure of a whole region. It uprooted 1,000 wireless towers and knocked down 11,000 utility poles.
The telecommunications sector tallied $400 to $600 million in damages alone and critical businesses were forced to shut down entirely, including 25 hospitals and 100 TV and radio broadcast stations.
In a disaster of Katrina's magnitude, there is only so much that can be done. However, the right disaster recovery plan with the right contingency plans in place can help keep the core services of a company up and running in even the worst conditions.
DRPs is a service we provide here at Alcala Consulting. You've worked hard to build your business, and with so much at stake, it doesn't make sense to wait. As we know, disaster can strike at any time. So, contact us here at Alcala for a free consultation and see just how much peace of mind a DRP can bring.