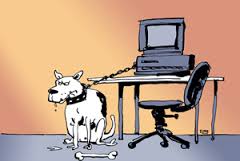 The latest news about the "hacking" of Anthem last week has most wondering if anything can be done to stop the "bad guys."  Well, yes and no.  While it is true that everyone is vulnerable; make no mistake about that, there are ways that you can make your system "less attractive" to a would-be hacker.
Consider this...much in the same way you employ many levels of security in an effort to protect your home against invaders, so must you do with your "cyber systems." The more deterrents you employ, the more difficult it will be to "get hacked."  If it is too much of an effort, chances are the "bad guys" will move on to another, more attractive potential victim.
And, just in case you feel that perhaps, you are too small of a fish to be hacked, here are some sobering statistics...
Your chances of being a victim are 1 in 4!
Prevent Identity Theft
Identity theft statistics are shocking! In the past five years, 1 in 4 Americans was a victim of identity theft making it America's fastest growing crime. Identity theft statistics indicate that this crime costs the government, businesses, and citizens of America billions of dollars each year.
Victims of identity theft are left with both financial and emotional challenges. Identity theft statistics show the average cost of identity theft is 30 hoursand $500 per victim. However, identity theft is a preventable crime if you are properly protected.
The Federal Trade Commission recently conducted a study on identity theft with identity theft statistics. Below is a short summary of the alarming identity theft statistics they compiled.
All Types of Identity Theft

4.6 percent of survey participants indicated that they were victims of identity theft in the past year.

These identity theft statistics suggest that nearly 10 million Americans were victims of some form of identity theft within the last year.

Credit Card Misuse

1.5 percent of survey participants reported that in the last year their personal information had been misused to open new credit card accounts. Additionally,2.5 Percent of survey participants reported other misuse of their credit card information in the last year..

These identity theft statistics suggest that over 8.20 million Americans had their credit card information misused in the past year.

Non-Financial Misuse

15 percent of identity theft victims reported that their personal information was misused in non-financial ways. The most common misuse reported was for the identity thief to present the victim's name and identifying information when stopped by law enforcement authorities or when charged with a crime.

Total Loss to Businesses

Identity theft statistics suggest that the average loss to a business is $4,800. Total business losses from identity theft exceeded $47 billion in the last year.

Total Loss to Individuals

Identity theft statistics suggest that the average loss to an individual is 30 hours and $500. Total personal losses from identity theft exceeded 297 hours and $5 billion in the last year.
Victims in the Last Year
Percent of Population
4.65
Number of Persons
9.91 Million
Loss to Businesses
Average Per Victim
$4,800

Total

$47.6 Billion
Loss to Victims
Average Per Victim
$500

Total

$5.0 Billion
Hours Victims Spent Resolving Their Problems
Average Per Victim
30 Hours

Total

297 Million Hours
Concerned...??  Call us for a free consultation.  Really...there is no reason to worry when we're just a phone call away.